More Website Templates @ TemplateMonster.com - July 08, 2013!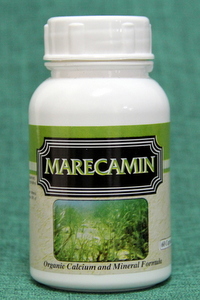 Marecamin is an organic calcium with other mineral supplements derived from calcified coralline Thallaphyta.

Each capsule contains a minimum of 400 milligrams of elemental calcium and other organic minerals. The product was developed due to the low absorption rate of all other calcium types.

Marecamin is a natural source of calcium with a unique surface area, 4-5 times greater than other calcium sources. This results in a solubilisation of 96%.

This is 43% higher than the next base calcium salts available. The organic nature of Marecamin together with this increased surface area results in avastly increased absorption in the body.


A Typical Analysis of Marecamin

| | |
| --- | --- |
| | |
| Calcium | 400 mg |
| Magnesium | 40mg |
| Zinc | 185mcg |
| Iron | 42mcg |
| Copper | 24mcg |
| Boron | 3.8mcg |
| Cobolt | 2.4mcg |
| Selenium | 2.4mcg |
Plus other trace elements
Benefits of Marecamin
• Increases bone mass and density. That helps prevent osteoporosis.
• Essential for the normal function of heartbeat, nerves, muscles and blood pressure.
• It aids in preventing insomnia.
• It is a long acting antacid. Excellent remedy for heartburn, reflux and ulcers.
• Assists in the healing process associated with ulcers.
• Helps prevent cramps. During strenuous excercise take 1 capsule every 4 hours.
• Calcium helps lower cholesterol.
• Adequate calcium assists in weight loss programs.
• It contains zinc and a host of other essential organic minerals.

Although there are several good natural sources of calcium Marecamin is not just another natural source of calcium but its unique characteristics makes it the first choice of people in need of a calcium supplement.